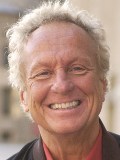 Find out how prayer can bring peace and safety to you and your community.
Sunday, November 4, at 2 p.m.
475 N. Kingshighway at Westminster
Free parking and child care 
Adams moved to New York City from the Midwest to pursue an acting career. He was healed of a serious drug habit through his study of the textbook of Christian Science, Science and Health with Key to the Scriptures by Mary Baker Eddy. This healing changed his life. Adams speaks on the power of Bible-based prayer to heal everything from illness and unemployment to violence and terrorism.
Bring your friends and neighbors. People of all faiths—or no faith—are welcome!