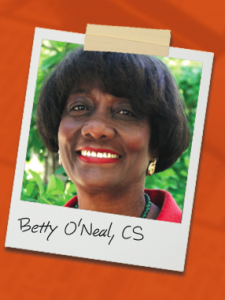 At this time of high unemployment, everyone needs encouragement. That's why we have arranged for national speaker Betty O'Neal, C.S., to come to St. Louis and present her talk – Secure Employment for Everyone.
 "This talk gives listeners comfort and assurance that in God's universe there is enough good for everyone and that includes enough secure employment," says O'Neal.  "Through understanding God's plan and purpose secure employment is found.  I will share many examples of how prayer transformed thought and brought unexpected opportunities."
Betty will give her one hour talk on Saturday, April 28, at 3:30 pm in the Julia Davis Library, 4415 Natural Bridge Avenue.  The talk is free and everyone is welcome to attend. Childcare for the children of parents attending the talk will be provided at the Library.